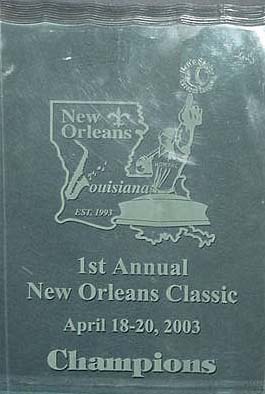 Apollos in New Orleans
---
Game 1
Apollos beat New Orleans Sun Devils 10-7 at University of New Orleans, how nice was the field, Drew Horsely pitched 8-1/3 only giving up 4 until the ninth, The Apollos had to put in Dutka for the save, Dutka also made seven beautiful assists from third base. Marcos Quinones had 6 rbi's.
---
Game 2
Apollos beat New Orleans third base 17-2 at Seagennte Park Alario Center. JT Thompson pitched a complete game and walked only one batter. The New Orleans lefty pitcher was good, but the Apollos were ready after all the leftys they see in Houston. Chris Gibson actually homered out of the massive stadium. Kevin Hall had two triples.
---
Game 3
Apollos beat Atlanta Green Jackets 13-1 at Bonnabel High School. Chris Gibson gave up one home run in 8 innings. The Green Jackets walked 15 Apollo Batters. Dunn and Donald reached 4 times, this game was very early for Apollos who were out late the night before.
---
Game 4 Semifinal
Apollos beat Houston Patriots 12-6 at Bonnabel High School. Chris Scarcella pitched 7 innings for the win, he was rocked early but settled down. Kevin Hall homered twice and stole a base. Alex Dutka homered and played well at third.
---
Game 5 Championship
Apollos beat Atlanta Greenjackets 12-2 at Seagennte Park Alario Center. Alex pitched 6 solid innings allowing only 2 runs. Marcos Quinones finished the final four innings allowing only two base runners. The Apollos were down to 10 active players but it didn't matter we had a 6 run lead and Clemens on the mound.
---