Apollos Total Record 10-0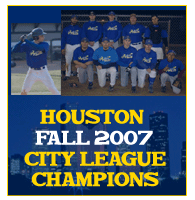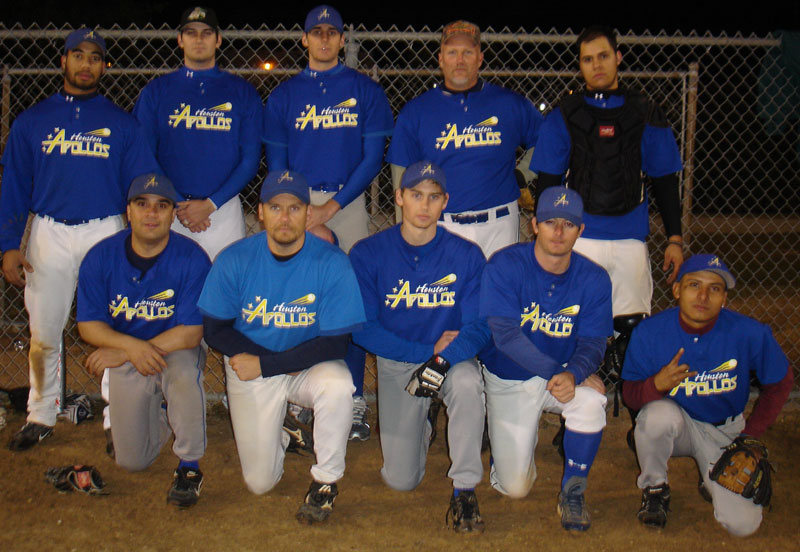 Championship Game Apollos 15 HMABL Astros 2
---
Kyle Spangler hit two home runs with 5 rbis and 3 runs, Mike Wilson went 4-4 with 3 runs and pitch 4 innings of solid ball allowing only two runs. Anthony Covent and Tim Brown also had two hits. The Apollos got real solid defense from Adan Moody and Manny Lujan, Bob Pfaff pitched two inning and Manny Lujan pitched the final inning, the Apollos ended 2007 without an HMABL Loss only done once in team history (2005).
---
Playoff Game 1 Apollos 12 Houston Braves 1
---
Mike Wilson struck out 7 in 5 innings while not allowing a hit. Bob Pfaff threw out the only base runner who tried to steal and hit a bases loaded double for 3 rbi's to lead the Apollos, All Apollos got at least one hit Manny Lujan had two hits. Ethan Brown pitched 2/3 of an inning walking 4 people allowing the only run, Kyle Spangler was brought in to get the last hitter out.
---
---
Game 9 Apollos 11 Mets 3
---
Mike MacGlothin threw 3-1/3 inning allowing 3 runs. Bob Pfaff pitched 2/3 of an inning allowing a hit. Mike Wilson and Kyle Spangler each pitched an inning a piece not allowing a base runner and striking out ever batter that the faced. Andrew Dunn went 4-4 with 3 runs. Tim Brown went 1-2 with a double, 2 runs and a sac. Manny Lujan started the Apollos scoring with a single and went 1-3. The ground at Schwartz was harder than cement.
---
Game 8 Apollos 10 Houston Braves 2
---
The Apollos showed up in Yellow Jerseys with only 9 players and got strong contributions from all. Tim Brown continued his hot hitting with a solo Home Run, Mike Tellez hit the ball hard three times and doubled and scored a run. Andrew Dunn had two hits and an 2 rbi double. Mike Wilson had two solid singles. Anthony Covent scored three runs on two hits with 3 stolen bases to lead the Apollos. Mike Wilson pitched 4 innings only allowing 1 run. Jorge Huerta pitched three innings allowing only a solo home run. The Apollos only walked one batter and didn't make an error.
---
---
Game 7 Apollos 4 HMABL Astros 0
---
Mike MacGlothlin started and threw 5 innings, striking out 10 not allowing a run. Eric Brown threw 3-1/3 innings striking out 4, but got into trouble in the 9th. He left runners and 2nd and 3rd and one out. Kyle Spangler came in and struck out two batters for the Apollos who maintained a shutout. The Astros only got two hits and never threatened to score until the 9th. The Apollos struggled to score runs as well with the wind blowing in and the team 34" bat cracked. It was the first cold night of the year and the ball just wouldn't carry. The Apollos hitters routinely crushed balls that would have typically been home runs that were easily killed by wind and caught by Astros center fielder. He had 9 put outs which might have been some kind of HMABL Record. Andrew Dunn and Tim Brown each scored two runs and that was it for the Apollos, Tim Brown had two hits, including a game changing bunt with guys a 1st and 2nd and no one out. Dunn and Brown scored on Kyle Spangler's ground ball that was thrown away. Brown also drove in Dunn later in the game.
---
Game 6 Rockies Forfeit Apollos scrimmage Mets, Apollos beat Mets in scrimmage, the Mets showed up on 4 hours notice.
---
Game 5 Apollos 16 Katy Braves 1
---
The Apollos played their first ever game at Mason Park against the Katy Braves. Justin Ard hit one of the longest home runs ever recorded at Mason Park, the ball landed in the middle of the trees in right center field. Tim Brown, Andrew Dunn, Kyle Spangler, Justin Ard all had two hits. Mike MacGlothin pitched three innings scoreless striking out 8, Ethan Brown pitched 2 innings allowing a run striking out 5. The Katy Braves are basically an expansion team with players put together from the open HMABL tryout who have one pitcher and all players have to try to pitch. Their roster has completely turned over in recent years. This was a big step backwards for the league with good competitive teams such as Knights and Houston Braves. Players on both sides were unhappy with game.
---
Game 4 Apollos 8 Knights 6
---
Bob Pfaff hit a home run and struck out the final two batters for the save to help a struggling Apollos offense hold off the Knights. Mike Wilson started going 4 innings allowing 2 runs and left with the score tied a 2-2. Eric Brown entered and pitched 3-1/3 inning allowing 4 runs. Bob Pfaff entered the game with runners on 2nd and 3rd and one out and an 8-6 lead, he struck out the only 2 batters he faced. Mike Wilson, Tim Brown Will Braden and Andrew Dunn all had two extra base hits a piece. The Apollos are continuing the struggle to score runs.
---
Game 3 Apollos 14 Kingwood College 3
---
The Apollos played their lone weekend game of the fall season in Kingwood against Kingwood College. Tim Brown went 4-5 with 4 rbi's 2 sb, 2 2b's and a homer to power the Apollos. Mike MacGlothin started and pitched three innings striking out 6 but allowing a 2 run homer and leaving with a tie game 2-2. Brad Boutwell pitched 2 innings striking out 3 and not allowing a base runner. Eric Brown pitched the final two innings allowing a run while striking out 3. Longtime Apollo Chris Schmidt is the new head coach for the Kingwood College Coyotes, who have changed their identity. Mike Schmidt coached the team today and pulled all of his starters after the 3rd inning with his team trailing 4-2, the Apollos hammered Kingwood's bullpen.
---
Game 2 Apollos 11 Houston Braves 3
---
The Apollos took on the Braves in what turned out to be a close game until the Apollos got into the Braves bullpen. The Apollos broke a scoreless game in the 3rd when Andrew Dunn drove in Mike Tellez. In the 4th Anthony Covent singled in Manny Lujan and Kyle Spangler. In the 5th the Apollos scored 4 runs with an Adon Moody walk, Andrew Dunn reach on an error. Tim Brown double, Manny Lujan double, Kyle Spangler single. In the 7th The Apollos added 5 more runs in the 7th with Andrew Dunn walk, Tim Brown triple, Manny Lujan error, Kyle Spangler single, Anthony Covent single, Mike Tellez single. Pitching wise for the Apollos Mike Wilson started and went two innings getting out of jams in both innnings striking out 5 while not allowing a run. Ethan Brown pitched 4 innings of scoreless ball and then in the 6th allowed three runs before being removed. Kyle Spangler came into a 6-3 game with tieing run at the plate to quickly record two outs and then pitched three up three down in the bottom of the seventh. The Apollos had better clutch hitting than the Braves who squandered many offensive chances.
---
Game 1 Apollos 10 Titans 7
---
The Apollos took the field at Schwartz with several months of rust against the upstart Titans. Kevin Hall's two run homer was the spark that broke the game open. Andrew Dunn scored the games first two runs and the score was stuck at 2-2. Bob Pfaff and Manny Lujan each k'd to start the 4th inning then Anthony Covent walked and Kevin Hall homered. Anthony Lymbo doubled and Will Braden singled followed by a Mike Tellez double leaving the score 6-2. The Apollos would score two more in each the 5th and the 7th to end the magic number of 10 runs. Things did not start well for the Apollos Mike MacGlothlin started and didn't get out of the first inning before allowing 3 hits 2 walks and 2 runs. Ethan Brown came out of the bullpen and got a bases loaded double play ball and then struck out 7 over three innings not allowing a run. His dominiant performance saved the Apollos. Eric Brown attempted to pitch the 4th inning but gave up three runs before recording an out two hits and two walks, leaving a man on third with no outs. Kyle Spangler came in and struck out the side to freeze the scoring. Kyle pitched one more inning striking out 4 for a team record 7 strike outs in two innings. Mike Tellez dropped a 3rd strike. Manny Lujan was the only available pitcher for the 7th allowing 2 runs with a 5 run lead simply allowing the other team to hit the ball.