The Apollos won the championship finishing 14-3. The Apollos had great defense, great hitting and an absolutely rock solid pitching staff anchored by Sonny Terrazas.
The team was lead offensively by many including Chris Gibson, Andrew Dunn, Eric Morales, Sonny Terrazas and even Jeff Murphy.
---
Sonny Terrazas is the MVP of the Spring 2002 season.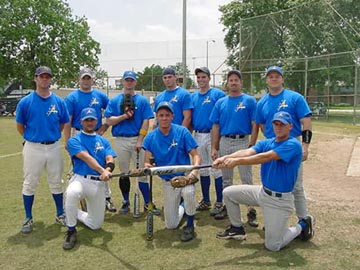 ---
Our League Website is here. Goto Spring 2002 for final standings, etc.
---
Playoffs Game 6
Apollos beat Baysox 13-1. Sonny Terrazas gave the Apollos 6 good innings, the offense took care of the rest. Chris Gibson homered once and nearly homered twice. The only Baysox run was scored with a two out walk then an errant pickoff throw. The runner scored on a misplayed ball on the pickoff backup. It was discouraging to give up the run but we won anyways.
---
Playoffs Game 5
Apollos beat Baysox 20-3. Sonny Terrazas gave the Apollos 7 good innings, the offense took care of the rest.
---
Playoffs Game 4
Apollos beat Tigers 14-10. Sonny Terrazas hit a grand slam and allowed three runs over 5 innings. No Socks (DAC) hit 2 home runs. Donald Duck doubled and scored two runs. DAC gave up 5 runs in 2+ innings.
---
Playoffs Game 3
Apollos lose to Baysox 14-11. Chris Gibson battled but the Apollos only had 8 guys. Terrazas and Dunn were absent and some people weren't there that should have been.
---
Playoffs Game 2
Apollos beat Cougars 10-2. Chris Gibson threw 6 innings allowing 0 earned runs. Eric Morales went 3-4 with one HR and 3 RBI's. Andrew Dunn went 4-4 with 4 steals.
---
Playoffs Game 1
Apollos beat LC Astros 9-5. Chris Gibson had three hits and was the pitcher of record. Although Chris Gibson is very slow he can rake and is probably the best hitter on the Apollos squad. Jeff Murphy homered and Sonny Terrazas pitched well after allowing 3 in the first inning. David Moore actually had the game winning RBI. The floodgates opened when the Astros took Nick out of the game. Nick held the Apollos to 4 runs.
---
Game 9
Apollos beat Rockies 12-6. Dwayne Phaure had three hits in his return from toe surgery. Hamilton made several key plays including a double play. Jeff Murphy and Chris Gibson shared time on the mound. Andrew Dunn stole 5 bases and scored 4 runs. Sunny D was just chilling waiting for Sunday
---
Game 8
Apollos beat Astros 7-0. Sonny Terrazas struck out 10 in eight innings and allowed only two hits. He also got two hits himself. Chris Vela hit the fence with a two RBI double, Andrew Dunn scored two runs with two hits and two steals.
---
Game 7
Apollos beat Indians 7-3. Chris Gibson struck out 7 in three innings without allowing a run and got three hits as the Apollos broke their losing streak. Jeff Murphy threw 4 innings allowing one run and got two hits. Andrew Dunn also had three hits and a failed attempt at an inside the parker.
---
Game 6
Bobcats beat Apollos 5-4. The Apollos got two hits from Carlos Zepeda and Will Wade. Sean Salinas went the distance for the Apollos and wasn't hit hard. The Apollos didn't hit the ball well at all.
---
Game 5
Tigers beat Apollos 13-0. Chris Vela kept the Tigers to 3 runs. The Tigers had a big inning, then the rain started, before we knew it is 11-0, they added 2 more to end the game 13-0. The Apollos needed this beating to wake them up. Chris Gibson allowed 7 runs. Andrew Dunn and Gibson each Tripled, Josh Wooten and Dunn had two hits. We will play the Tigers again in the playoffs and we need to bring our bats to avoid such beatings.
---
Game 4
Apollos beat Baysox 10-1. Sonny Terrazas/Chris Gibson/JT Thompson combined to limit the Baysox to one run as the Apollos approved to 6-0. JT Thompson and Kevin Hall each dropped bombs as the game wasn't close after the third inning.
---
Game 3
Apollos beat Baysox 5-4. Sean Salinas struck on 11 and walked 9 and did not allow a ball to be hit out of the infield. However the Apollos infielders were having fielding problems as they made 5 errors, allowing some runs. The Apollos went into the 8th down 4-1 but rallied to score 4 runs to win the game. The Clear Creek connection of Andrew Dunn & Jeff Murphy had the teams only 4 hits. Rematch next week at Clemmons.
---
Game 2
Apollos beat Astros 12-2. Chris Gibson hit two doubles and pitched 3 innings as the Apollos played good defense in a 12-2 win over the Astros.
---
Game 1
Apollos win first offical game 4-2 over Cougars
Sean Salinas pitched 5 innings allowing only 1 run and hit a home run to lead the Apollos to their first victory. Jason Atwell reached base three times but unfortunately he was traded before the game for Jeff Murphy and a dozen baseballs to the League City Astros....During the game he broke his ankle so the trade is pending.. The Apollos played solid defense and had their pitchers throw strikes.
---
The offense will progress next week.
---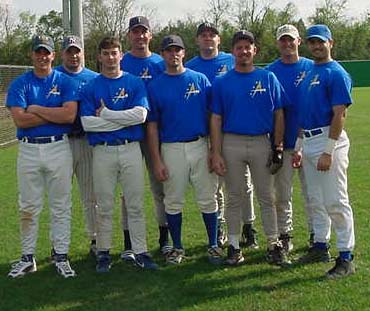 ---